미국 의회에서 사상 처음으로 재미 이산가족에 관한 청문회가 열렸습니다.
33명의 미 하원들이 종전선언 채택하고 북미 평화 협정 체결하라는 결의안을 지지하고 있습니다.
반면 40여일 넘게 대한민국 국회가 자유한국당의 정쟁으로 문을 열지 못하고 있습니다.
국민을 위한 평화 대 장정!
우리의 전 세계 인류을 위한 역사적인 임무입니다.
시몬천 드림
Dear friend--an update in the week of one-year anniversary of the historic Singapore summit that brought together President Trump and Chairman Kim for the first-ever meeting between a U.S. president and North Korean leader. Special and many thanks to our American friends--scholars, teachers, activists, analysts, religious leaders, NGOs, and, most importantly, members of Congress--for their company and their faith in peace on the Korean peninsula and in Northeast Asia: "A journey of a thousand miles begins with a single step."
1. First (ever) hearing on divided Korean American families in US Congress. 미의회 사상 첫, 재미이산가족 청문회 개회. Reunion of Separated Families/KBS News. https://www.youtube.com/watch?v=YESKUgpe0Uk&feature=youtu.be ; https://www.youtube.com/watch?v=t1hLZQbeCc0 (in Korean)
2. Father Gerard E. Hammond who will visit North Korea at the end of June to take care of TB patients appeals for interest in urgent needs of TB patients. For the last 20 years, Father Hammond has made more than 50 visits to North Korea to take care of patients. 북한 결핵환자 돕기 위해 58회 방북한 함제도 신부 6월말 방북 예정 https://www.youtube.com/watch?v=Tv758K-jwhw An interview with Stephen Linton, chairman of The Eugene Bell foundation in Korean (http://news.kbs.co.kr/news/view.do?ncd=4217114#.) According to Mr. Linton, the rate of recovery of TB patients in North Korea is 75% (compared with 50% even in developed countries) due to the incredible devotion and dedication of North Korean health care teams--very interesting and impressive! http://www.eugene-bell.org/ http://www.eugene-bell.org/
3. Ann Wright. Korea Peace Now! Cooperation Continuing Despite Stalled Dialogue With US. WorldBeyond War.org
At a press conference at the United Nations Correspondents Association on March 14, South Korean civil society representative Mimi Han of the Young Women's Christian Association and the Korean Women's Movement for Peace said: "We Koreans, in both the North and the South, have deep scars from the World War II war and the division of our country after World War II. Korea had nothing to do with the war—we were occupied by Japan for decades before the war and yet our country was divided, not Japan. My mother was born in Pyongyang. 70 years later, trauma is still living in us. We want peace on the Korean peninsula-finally." https://worldbeyondwar.org/korea-peace-now-cooperation-continuing-despite-stalled-dialogue-with-us/
4. Time to lift the travel ban & reunite families after 70 years of division. Congressional Asian Pacific American Staff Assn via Dan Jasper. https://twitter.com/DJasper_/status/1139581405275578369 CAPAC Congressional Forum on North Korea. The forum led by CAPAC Chair Judy Chu (CA-27), and CAPAC Second Vice Chair Mark Takano (CA-41) and feature witness testimony on the continued impact of the division of Korean families, ongoing humanitarian issues, and a general discussion of the implications of security issues related to North Korea and American involvement in the Pacific.
Participating Members:
• Rep. Judy Chu (CA-27)
• Rep. Grace Meng (NY-06)
• Rep. Mark Takano (CA-41)
• Rep. Andy Kim (NJ-03)
• Rep. Pramila Jayapal (WA-07)
• Rep. Al Green (TX-09)
• Rep. Ro Khanna (CA-17)
http://www.pasadenanow.com/main/capac-congressional-forum-on-north-korea/#.XQGYec9KjUI
5. 33 cosponsors! H.Res.152 - Calling for a formal end of the Korean war. (GOALS: 100!!)
Sponsor:
Rep. Khanna, Ro [D-CA-17] (Introduced 02/26/2019)
Rep. Jayapal, Pramila [D-WA-7]*02/26/2019
Rep. Pocan, Mark [D-WI-2]*02/26/2019
Rep. Lee, Barbara [D-CA-13]*02/26/2019
Rep. Haaland, Debra A. [D-NM-1]*02/26/2019
Rep. Omar, Ilhan [D-MN-5]*02/26/2019
Rep. Ocasio-Cortez, Alexandria [D-NY-14]*02/26/2019
Rep. Norton, Eleanor Holmes [D-DC-At Large]*02/26/2019
Rep. Schakowsky, Janice D. [D-IL-9]*02/26/2019
Rep. Grijalva, Raul M. [D-AZ-3]*02/26/2019
Rep. Rush, Bobby L. [D-IL-1]*02/26/2019
Rep. Johnson, Eddie Bernice [D-TX-30]*02/26/2019
Rep. Gabbard, Tulsi [D-HI-2]*02/26/2019
Rep. Espaillat, Adriano [D-NY-13]*02/26/2019
Rep. Kim, Andy [D-NJ-3]*02/26/2019
Rep. Tlaib, Rashida [D-MI-13]*02/26/2019
Rep. Chu, Judy [D-CA-27]*02/26/2019
Rep. Serrano, Jose E. [D-NY-15]*02/26/2019
Rep. Moore, Gwen [D-WI-4]*02/26/2019
Rep. Velazquez, Nydia M. [D-NY-7]*02/26/2019
Rep. Blumenauer, Earl [D-OR-3]02/27/2019
Rep. Meng, Grace [D-NY-6]02/27/2019
Rep. DeSaulnier, Mark [D-CA-11]03/06/2019
Rep. Lieu, Ted [D-CA-33]03/25/2019
Rep. Meeks, Gregory W. [D-NY-5]03/25/2019
Rep. Welch, Peter [D-VT-At Large]03/25/2019
Rep. Eshoo, Anna G. [D-CA-18]05/07/2019
Rep. DeFazio, Peter A. [D-OR-4]05/07/2019
Rep. Cisneros, Gilbert Ray, Jr. [D-CA-39]05/14/2019
Rep. Lofgren, Zoe [D-CA-19]05/15/2019
Rep. Maloney, Carolyn B. [D-NY-12]05/15/2019
Rep. Thompson, Mike [D-CA-5]05/21/2019
Rep. Raskin, Jamie [D-MD-8]06/04/2019
Rep. Pappas, Chris [D-NH-1]06/11/2019
https://www.congress.gov/bill/116th-congress/house-resolution/152
6. Citing pressure from U.S. sanctions, Finnish NGO ends aid work in North Korea. OFAC measures making DPRK operations "impossible": Fida International.
The Finnish non-government organization Fida International has decided to bring an end to its work in North Korea after over 20 years in the country, the group said Tuesday, blaming increasingly tough U.S. sanctions for making continued operations "impossible." The decision will see the NGO bring an end to a €414,000-a-year food security and healthcare project in the DPRK, which was originally set to continue until 2021 and had been funded by the Finnish Ministry of Foreign Affairs since 2001. The organization last delivered food aid to North Korea in late May, with a shipment of 384 tonnes of maize and 28 tonnes of soybeans aimed at alleviating what many fear to be a growing humanitarian crisis in the DPRK. That shipment came in the wake of UN assessment earlier that month which concluded that over 10 million North Koreans are food insecure, a report which has also prompted South Korea to send $8 million worth of funding to aid organizations working in the DPRK.
https://www.nknews.org/2019/06/finnish-ngo-to-end-north-korean-aid-work-over-u-s-sanctions-pressure/?fbclid=IwAR3sEHbjfiDHvGk8oRlUr2sNMr8klzsx5T2z2OGUXebdjlqk681xdYoXX9U
7. US Group: People in North Korea need medical support. An executive at a US charity focused on North Korea is stressing the importance of allowing aid workers to continue work in the country, despite political tensions. Heidi Linton of Christian Friends of Korea recently spent about a month in the country offering medical support. She says people there lack clean water and adequate nutrition. That's contributed to high levels of Tuberculosis, including drug-resistant strains.
https://www3.nhk.or.jp/nhkworld/en/news/20190612_24/ https://www.cfk.org/
8. Kaesong owners fly to Washington to lobby. "We hope to explain to the U.S. Congress and executive branch that the Kaesong Industrial Complex is an urgent issue that concerns the livelihoods of more than 200,000 South and North Koreans, independent of ideological matters," The business owners last week said their visit would be an important first step toward an eventual resumption of operations. They added that they hoped to attract investors from the United States and other countries to the complex, which could shield it from closure in the event of future political contingencies.
http://koreajoongangdaily.joins.com/news/article/article.aspx?aid=3064118&cloc=joongangdaily%7Chome%7Cnewslist1
9. Thousands of S. Koreans ask gov't to approve their trip to Mount Kumgang. Washington, however, opposes full-fledged cross-border economic cooperation which it worries could undermine the global sanctions regime on Pyongyang when little progress has been made in denuclearization talks.
https://en.yna.co.kr/view/AEN20190614004500325?input=tw
One year on, the Singapore summit is still a diplomatic success. Harry J. Kazianis, Center for the National Interest
It's very important that the two Koreas are taking the initiative themselves to resolve the problem...The North Koreans have had cause in the course of their history to be concerned about nuclear attacks, during the Korean War and after that from the United States. Professor Carter J. Eckert, Harvard University
10. Harry J. Kazianis. Ignore the scorn, Trump has been proved right on North Korea. One year on, the Singapore summit is still a diplomatic success. 싱가포르 북미 정상회담 1주년 기념, 미국 보수 평론가 , 싱가포르 회담 긍정적이었다 논평. "The US-NK declaration signed a year ago should be thought of as a roadmap, an essential guide to what needs to happen for Washington and Pyongyang to build trust and end decades of hostility".
https://spectator.us/ignore-scorn-trump-right-north-korea/
11. Daniel R. Depetris. One Year After the Singapore Summit: Lessons Learned. 38 NORTH
It will also require Washington to abandon the idea that North Korea should give up all its nuclear, chemical and biological weapons and missiles as well as the means to produce them before the tone, tenor and substance of the broader US-DPRK relationship is improved. No rational nation would accept an unprecedented military and diplomatic surrender to an adversarial country absent the kind of political progress that will take significant time and patience to develop. This is particularly the case with a country like North Korea, which has proved repeatedly that denuclearization will not occur as long as the administration remains uninterested in reconciling per the Singapore communiqué.https://www.38north.org/2019/06/ddepetris061319/
12. Henri Feron. Opinion Contributor - Why the US must conclude a proper treaty with North Korea. 미국은 단 한번도 과거의 북한과의 협의, 조약을 실행해야 하는 의무감 부재, 특희 미의회는 북미 협의 사항들 비준한 선례 없음 비평. 북미 협상의 법적 실효성 없는 비준 필요성 강조하는 헨리 퍼론 논평. There never has been a U.S.-North Korea agreement that went through ratification, an otherwise standard procedure for international treaties. The "Agreed Framework" of 1994 was never ratified by the Senate and, while Pyongyang still considered it created legal obligations, the State Department denied it was binding. Tellingly, Congress even refused to fund the concessions the Clinton administration had made to coax Pyongyang into the deal. We cannot expect North Korea to take its obligations seriously when the United States won't do the same.
https://thehill.com/opinion/international/447918-why-the-us-must-conclude-a-proper-treaty-with-north-korea
13.Henri Feron. Moon Jae-in: stuck between a rock and a hard place on North Korea. NK.News.Org
If South Koreans conclude that it is not possible to solve their country's live-or-die dilemma by a centrist approach, they will consider more extreme solutions to defend their interests…Most would evidently prefer not to alienate the United States. According to an Asan poll from January 2019, 67.7% of South Koreans still support a continued U.S. military presence on their soil. That number has, nevertheless, been decreasing quickly: in the five years prior, the average was closer to 80% support. There are plenty of ways Washington can ensure South Koreans continue to view the United States favorably. The most effective would be to conclude a deal that deescalates the nuclear crisis, so that South Koreans don't have to worry so much about being first in the line of fire anymore. Also, Washington should not force Seoul to choose between the U.S. and North Korea. Every interference in the inter-Korean reconciliation process is profoundly humiliating for Seoul, as it triggers mockery of the South as less-than-sovereign. https://www.nknews.org/2019/06/moon-jae-in-stuck-between-a-rock-and-a-hard-place-on-north-korea/?c=1560589478982&utm_content=buffer269aa&utm_medium=social&utm_source=twitter.com&utm_campaign=buffer
14. Suzanne Dimaggio. One Year After the Singapore Summit: A Breakthrough in Search of a Strategy.
Continuing the twin suspension of major US-ROK military exercises and North Korea's nuclear and long-range missile tests is keeping the door open for diplomacy. Here's some more good news. The elements of a potential interim deal were left on the table in Hanoi, providing a clear basis for continuing talks. The North Koreans' offer to permanently end and codify nuclear and missile testing is significant. The offer on Yongbyon and their willingness to shut it down in the presence of US experts would help us to better understand their program and overall capacities. And opening a US liaison office in Pyongyang would dramatically address the lack of steady channels of communication...Following the pageantry of two summits, we now need serious diplomacy to manage the uncertainties ahead and resolve a range of difficult issues.
https://www.38north.org/2019/06/sdimaggio061319/
15. Michael Fuchs and Abby Bard. One Year After the Singapore Summit, It's Time for a US-North Korea Deal. The United States can't let this moment pass.
And yet, despite the failure of the second summit in Hanoi and the resumption of missile tests by Kim Jong Un, there is still a window of opportunity for a deal. But that window won't last forever...In Beijing, the Chinese Communist Party supports détente between the U.S. and North Korea—and would support a deal—because it wants to avoid being the focus of more U.S. sanctions aimed at pressuring China over its economic engagement with North Korea. Even if the two countries found their way to a deal, it would just be the beginning of a longer process. But the United States can't let this moment pass. If it takes the United States sending a clear message that it is willing to negotiate its positions, then the United States should do so to get talks going.
https://thediplomat.com/2019/06/one-year-after-the-singapore-summit-its-time-for-a-us-north-korea-deal/
16. Dr. John Delury. Getting Back to Singapore. June 2019/KF-VYB Korea Chair Policy Brief.
Kim has to look beyond Trump and beyond a "deal". Kim Jon-un wants a new and different kind of relationship with the United States. One that allows him to carry out his explicit strategic priority, announced on April 2018, of focusing all efforts on economic development. Kim also appears to be pursuing an implicit strategy of repositioning North Korea in the context of intensifying geopolitical competition between the United States and China.
https://www.korea-chair.eu/wp-content/uploads/2019/06/KFVUB_Policy-Brief-2019-06.pdf
17. Hey Professor: Tell Us About Korea's Unified Olympic Team. The Harvard Crimson. "It's very important that the two Koreas are taking the initiative themselves to resolve the problem. That, to me, is a very hopeful thing. I really feel that American policy towards North Korea has been at a kind of standstill. As I mentioned, engagement is the most promising way to resolve the problem, but the United States has consistently insisted upon North Korea giving up its nuclear program. It makes no sense to me, if I were in the position of the North Korean leader, to give up the one thing that allows me to have some leverage and defense. The North Koreans have had cause in the course of their history to be concerned about nuclear attacks, during the Korean War and after that from the United States. It's not irrational, in any sense, to try to develop a nuclear program. " Professor of Korean History Carter J. Eckert, Harvard University.
https://www.thecrimson.com/article/2018/2/1/hey-professor-carter-eckert/
18. National Security and Foreign Relations with North Korea: A South Korean Perspective. Berkeley Institute of East Asian Studies. Panel Discussion: June 20, 3:30 - 6 pm.
http://events.berkeley.edu/index.php/calendar/sn/ieas.html?event_ID=125952
19. JNC TV (In Korean, Youtube news by Koreans and Korean-Americans in the United States). 제이엔시 티비, 미주 지역 기반 유투브 뉴스, https://jnctv.org/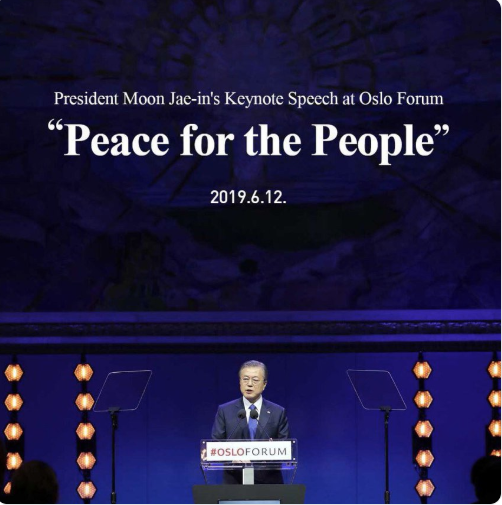 President Moon Jae-in's Oslo Doctrine for Peace:
"Peace for the People"
문재인 대통령 오슬로 평화 독트린
국민을 위한 평화
The people have also been the very driving force behind the Republic of Korea's advancement. One hundred years ago, when Korea was under colonial rule, woodcutters, miners, students, visually impaired persons, domestic servants, female entertainers, peasantry, and other ordinary people came out on the streets to wave the Korean flag and participate in the March First Movement calling for national independence. This was a massive protest, with the participation of approximately 2.02 million people, which amounted ten percent of the total population at that time. Even after her independence, Korea suffered a devastating war. Despite the setbacks, the country has managed to achieve economic growth and democracy through the strength of her people in seven short decades. This is seen as an unprecedented achievement in the world. Mothers and fathers, unable to study themselves, were determined to have their children educated. Friends and neighbors encouraged each other by saying, "You can do it!" When the nation and society faced a crisis, the people took to the streets holding candles, assuming the lead in restoring democracy. The Republic of Korea we see today was created by each and every one of these determined citizens.
https://english1.president.go.kr/BriefingSpeeches/Speeches/606
시몬 천
노스웨스턴대 국제정치학 강사