이곳 미국에서 열심히 한반도 평화를 위해 노력하는 소중한 벗들의 소식을 전합니다.
대한민국의 국제 브랜딩, 단결된 남북한, 한반도 국제 브랜딩이 '평화'로 만들어지는 2018년입니다.
100년만에 주어진 이 소중한 평화와 통일의 기회, 반드시 우리 세대에 이룩할 수 있도록 단결(團結) 합시다!
-시몬천 드림
Imagine a world where children never experience war!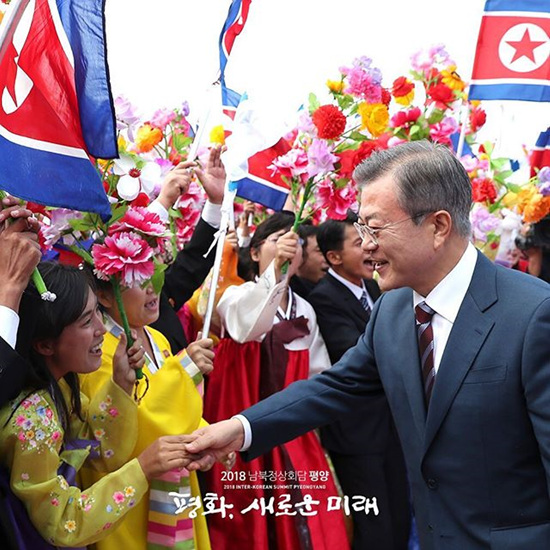 "I was so moved by the warm hospitality of [Koreans, Korean-Americans and Americans] that I found myself singing."
Rhee Ki-ho, North Korean Councilor to the United Nations, 2018 Global Peace Forum on Korea, Sept. 29, Columbia University.
Dear Esteemed Friend--an update on the Korean peace process.
Imagine that children born in both Koreas and the United States this year so far have only one image: no hostility but friendship. They have to go to the museum to learn about the 7-decade-long war between the United States and North Korea. That is a reality we created--a miracle!
Please stay informed, inspired and kindly be our friend for peace forever!
Toward a US-North Korea friendship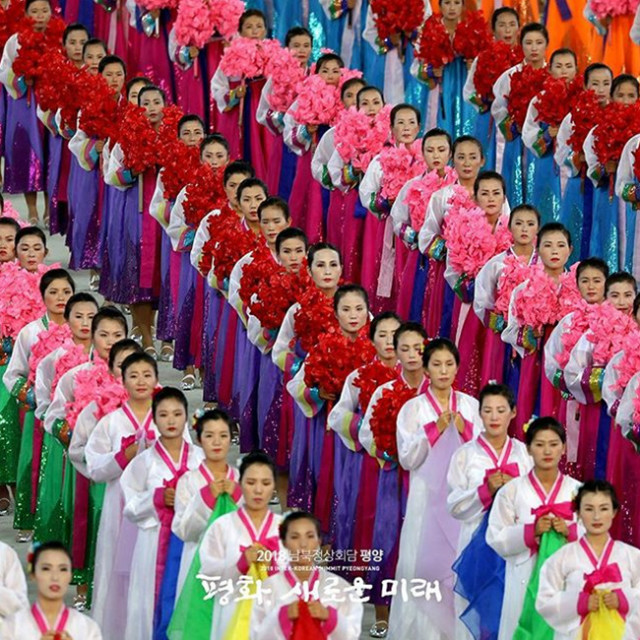 1. South Korea's Moon Jae-in makes unprecedented mass games speech. BBC. 7세기의 적대감을 완전히 종식...남북관계는 흔들림 없이 이어져갈 것입니다 , 문재인 대통령 역사적인 100,000 평양시민에 연설.
"I propose that we should completely end the past 70 years of hostility and take a big stride of peace to become one again," https://www.bbc.com/news/world-asia-45578491
2. Secretary of State Mike Pompeo's 4th trip to Pyongyang this Sunday. He will travel to Pyongyang to meet with North Korean leader Kim Jong-un.
폼페이오국무장관 이번 주말 북한 방문.
3. "Trust-building" as the keyword for North Korea's position: 1) no unilateral disarmament without trust-building; 2) end hostility and establish foremost a friendly relationship with the United States; 3) the smooth progress of inter-Korean relation as a model for US-North Korean relations; and, 4) a broad, multi-lateral engagement based on mutual commitment to trust-building as a modus operandi for U.S.-North Korean negotiations.
북미관계의 키워드는 상호신뢰 구축.
4. Substantive progress in inter-Korean cooperation: real military-to-military agreements to potentially defuse a lot of tensions in the NLL, in the maritime dispute, and ways to potentially take gradual steps.
남북군사회담 실질적 성과.
5. Transforming the world's most militarized zone, the DMZ, to a "peace zone"?
The Koreas started removing landmines from the DMZ this week as part of implementing the Pyongyang declaration and reconciliation.
비무장지대를 평화의 지대로, 지뢰제거작업 시작.
5. The first joint commemoration of the 11th anniversary of the October 4 inter-Korean declaration in 11 years to be held in Pyongyang, 10/4-10/6: 150 South Korean government officials and civilians will travel to Pyongyang. 10.4 선언 11주년 남북공동행사.
6. 9 out of 10 Koreans support an end of the Korean War declaration. The Institute of Korean Society and Opinion, 9/29-29/2018.
10명중 9명 한국인들 2차 북미정상회담 직후 종전선언 기대.
The declaration of a formal end to the Korean War is a political and symbolic measure that can facilitate the transition towards a comprehensive peace process on the Korean Peninsula and in Northeast Asia, which encompasses a solid peace agreement, a peace regime and a peace system.
86.4% support an end of the Korean War declaration immediately after the second Kim-Trump summit.
81.2% have high expectation for the second Kim-Trump summit.
72.1% support corresponding measures from the United States, including lifting economic sanctions.
The link to the Korean report: http://www.polinews.co.kr/news/article.html?no=368548
7. Nearly 80% of Americans support diplomatic ties with N.K. after denuclearization: poll.
80% 미국인들 북한 비핵화 실행시 북미외교정상화및 대북경제제제 해제 지지.
According to the poll commissioned by the Chicago Council on Global Affairs, 77 percent of Americans are in favor of such a concession, along with providing economic and humanitarian aid to the North at 54 percent…In other concessions, a partial withdrawal of U.S. troops from South Korea received 54 percent of support, while less than a majority (44 percent) were in favor of canceling joint military exercises between South Korea and the U.S., and 18 percent backed a complete withdrawal of the 28,500 troops.
http://english.yonhapnews.co.kr/national/2018/10/02/0301000000AEN20181002000200315.html?sns=tw
8. Interview with Moon Chung-in, a special presidential advisor on unification, foreign affairs and national security.
북한의 비핵화는 한반도와 동북아시아의 항구적이고 포괄적인 평화체제 구축내 이루어 져야 한다, 문정인 교수 인터뷰.
According to Zelikow, the denuclearization of North Korea can only happen within a process of comprehensive peace...President Moon is thinking quite comprehensively….
http://english.hani.co.kr/arti/english_edition/e_northkorea/864003.html
9. Katherine Moon. U.S. efforts in Korea bear little fruit. Brookings.
남북한 관계 실질적인 성과 브루킹스 캐터린 문 교수 평가.
Seoul's dogged pursuit of a peace treaty with Pyongyang may seem abstract and idealistic, but the Pyongyang summit earlier this month yielded substantive and concrete steps toward rapprochement: regular military communication and cooperation to prevent clashes in the West Sea, new "buffer zones" on land and sea, halting military exercises in the Demilitarized Zone (DMZ), and launching joint search operations to locate the remains of Korean War casualties in the DMZ. Such measures are intended to increase South Korea's security and decrease its dependence on Washington.
https://www.brookings.edu/blog/order-from-chaos/2018/10/02/u-s-efforts-in-korea-bear-little-fruit/
10. Frank Aum and S. Nathan Park. After 65 years of 'armistice,' it's about time to end the Korean War.
65년의 휴전협정후 이제 한국 전쟁은 종전할때다 CNN 보도.
But North Korea also vowed that it would only take major denuclearization steps if the United States takes "corresponding measures," including declaring an end to the Korean War, An end of war declaration would provide a low-cost way of testing the hypothesis that Kim will denuclearize if he can be assured of a better relationship with the United States. Kim already possesses nuclear weapons, and he may never give them up. But in Singapore, he at least committed to going down the denuclearization path, as he shifts his focus to improving his country's economy and welfare. An end of war declaration would encourage Kim to stay on this path.
https://www.cnn.com/2018/10/02/opinions/north-korea-declaration-end-war-aum-park/index.html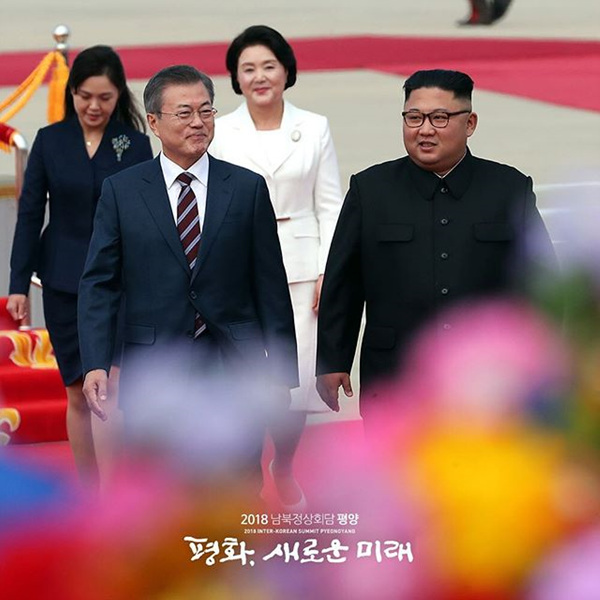 11. Interview with Tim Shorrock. Korea Net. org. The US needs to make some changes in its strategic calculus.
북한을 적으로 취급하지 않아야 한다, 미국은 전략적인 계산에 변화 있어야, 한국 전문가 베테락 팀쇼락 더 네이션 기자 논평및 쇼락 기자의 서울에서 평양정상회담중 인터뷰.
North Korea cannot be treated as an enemy nation. There has to be real concrete progress towards peace.
https://www.youtube.com/watch?v=qapXnSe0vxk
12. The U.S., North Korea, and Nuclear Diplomacy. NCNK.
미국과 국교정상화, 적대감 종식이 북한의 최대 목표 포함, 북미 비핵화 외교 요약.
Over the decades, Pyongyang has been consistent in outlining what it wants from the United States, though the details have shifted from time to time. North Korea has repeatedly called for a peace treaty and normalized relations with Washington, and – above all – an end to what it calls the U.S. "hostile policy."
https://www.ncnk.org/resources/briefing-papers/all-briefing-papers/history-u.s.-dprk-relations
13. Prof. Suzy Kim, "Behind the Iron Curtain: Cold War Women in North Korea", Lecture, the Asian Studies and the International Studies programs, Boston University.
미국내 언론의 한국 전문가들중에도 한국에 대한 무지… 북한에 대한 올바른 지식위해 미국 정치인들의 역사적인 인식 필요, 수지 킴 교수, 보스턴 대학 강의.
"I think a lot of what gets said about North Korea in the mainstream media, and even by those that claim to be experts on North Korea, is rather uninformed… I certainly hope that policymakers take an interest in historical works because it does inform our understanding of why North Korea does what it does." http://www.bcgavel.com/2018/09/25/professor-suzy-kim-discusses-women-in-north-korea/
14. Simone Chun, "President Moon: a "genius" who saved the stalled U.S.-DPRK talks?", Interview with JNC TV (in Korean).
As a result of the historic "Pyongyang Declaration", Pyongyang will be recorded in history as "peace". Pyongyang=Peace!
Inter-Korean relationship is a foundation for successful U.S.-DPRK relationships.
Economic sanctions against North Korea must be lifted.
Rightwing politicians in Korea who have benefited from the division are big obstacles in the peace process.
시몬천 박사, 문재인 대통령 북미대화 살려낸 천재적인 역할
-남북 관계 발전이 북미 관계 발전시키는 발판
-북한이 어느 정도 비핵화 의지 보였으면, 대북 제재 완화해야
-자유한국당 및 나경원 의원, 한반도 평화 프로세스에 큰 걸림돌
http://homepy.korean.net/~jnctv/www/news/politic/read.htm?bn=politic&fmlid=853&pkid=30&board_
15. 2018 Global Peace Forum on Korea, "Peace and Prosperity for Korea and the World", September 9/29-30, 2018, Columbia University, New York.
2018년 한반도와 세계의 평화와 번영: 국제평화 뉴욕포럼, 역사적인 한반도 평화프로세스 모멘텀 관련 전문가들, 정치인들, 평화운동가들, 북한 외교관들 대거 참석, 한반도 평화는 바로 동북아및 세계의 평화와 번영 메시지와, 김성 북한 유엔대사및 북한 외교관들의 유창한 영어와 세련되고 진실된 메너로 화려한 데뷔, 미국인들및 재미교포들 감동시킴.
1) "Congratulations on the courage you have shown in coming together to build understanding and forge peace on the Korean Peninsula… In response to the deep yearning of the Korean people, Chairman Kim Jong Un and President Moon Jae-in have called for a new era of peace and a peaceful land." President Jimmy Carter.
새로운 평화의 시대를 연 문재인 대통령과 김정은 국무위원장, 모두의 용기 축하한다, 지미 카터 대통령.
2) "The seven-decade-long Korean crisis is a history of unintended consequences and missed opportunities. The Soviet-American joint declaration, intended as a temporary measure for facilitating the Japanese surrender, failed to produce an independent and unified Korean state...The "Korean Question"…: armed rivalry between two governments on the Korean Peninsula, neither recognizing the legitimacy of the other, and each supported by major external powers.... It may be time now to move past the Cold War mentality fixation on denuclearization as a prerequisite for peace. The nuclear issue is one aspect, albeit perhaps the most dangerous one, of a conflict rooted in the post-World War II settlement and the Cold War but that has far outlasted them both. Prof. Charles Armstrong, Columbia University.
7세기의 한국 위기는 잃어버린 기회. 북한의 비핵화를 평화의 전제 조건으로 집착하는 냉전 사고 방식에서 이제 벗어나야 할때다. 2차 대전후 미소의 인위적인 남북분단및 냉전이 북한의 핵위기 선행되었다. 그러한 역사적인 이해 필요. 따라서 오늘의 비핵화 문제를 풀기 위해선 남북분단과 냉전의 기원, 원초적인 문제 해결해야, 콜롬비아 대학, 석학 찰스 암스트롱 교수의 우수한 역사적인 분석.
3) "...all the more reason for a second US-DPRK leaders summit and support for ROK "space" to forward the process...important to seize this historic opportunity and continue a process that is a striking alternative to another scenario--the spectre of war that gripped us this time last year." Stephen E. Noerper, Senior Director, Policy, Korea Society.
4) "To relieve the suffering of the divided family is fighting against the time...is not insignificant. At the individual level, it means trauma… find blood family, at national level, it means a beginning of recovering common identity and reconciliation, and at the level of unification, it means opening a small ...create a smaller scale of unification for national unification." Lee Jae Jung, Lawyer and Parliamentary Member of the Democratic Party, Korea.
이산가족의 아픔을 덜어 주는 것… 개인적인 차원에선 아픈 상처를 달래면서 혈육의 정 찾는 것, 민족차원에선 동질성 회복과 화합의 시작, 통일의 계획에선 작은 단위의 통일을 이룩해가며 통일의 물꼬를 트는 것이다. 이재정 더불어민주당 위원.
5) "Japan should pursue Japan-DPRK economic engagement." Prof. Sachio Nakato, Ritsumekan University, Kyoto, Japan.
일본은 북한과 경제 협력해야, 사치도 나카도 교수. 리츄메칸 대학, 교토, 일본.
6) "...end-of-war agreements, non-proliferation commitments, and the humanitarian situation are not mutually exclusive asks...I really need to emphasize the urgency of this issue and interconnectedness of the humanitarian situation with every other issue at hand. 60,000 children cannot be considered 'collateral damage' and moments like this offer an opportunity to raise the profile of the situation and link it to the other aspects of the conflict." Daniel Jasper, Public Education and Advocacy Coordinator for Asia, American Friends Service Committee. 종전협정, 비핵화 잇슈와 함께 북한의 인도적인 지원 절실. 미국 정부의 대북경제제제로 인한 민간인 교류, 인도적 지원 봉쇄 비판, 다니엘 자스퍼, 미국친구서비스커미티.
7) "The policy of "maximum pressure" needs to be eradicated. UN sanctions shut down all humanitarian activities for North Korea...The root cause is hostile policy. The disease is war. The treatment is peace." Dr. Kee B. Park, Department of Global Health and Social Change, Harvard Medical School.
의사로서 보는 한반도 문제, 북한의 핵은 증세이지 원인이 아니다. 병명은 핵, 전쟁이며, 병의 원인은 적대감이며, 그 병의 처방책은 평화다, 하바드 대학 의대, 박기 교수, 북미 인도적인 교류 촉구.
8) "I visited North Korea as a teenager. It was great. Everyone was so kind." Lee Yu Na Bee, Korean American performing artist (Junior in Education, Syracuse University) who performed at the banquet.
어렸을때 북한 방문할 기회가 있었다. 모두들 너무나 친절했다. 리유나비 코리언어메리칸 교육학 전공 여대생.
9) Two Koreas must meet like this. Pictures from Global Peace Forum on Korea, New York. [in Korean].
남북 이렇게 만나야 한다.
https://news.joins.com/article/23010268?cloc=rss%7Cnews%7Ctotal_list
10) "I am a professor in Linguist [at Kim Il-sung University, Pyongyong]... and I can't sing, my voice isn't great...But, tonight, I was so moved by the warm hospitality of [Koreans, Korean-Americans and Americans] that I found myself singing."
나는 언어학 교수입니다. 노래를 못하지만 오늘 너무나 흥분해서 노래를 했습니다. 북한 유엔 주재 참사관. "나는 영원한 그대의 아들" 열창.
Rhee Ki-ho, North Korean Councilor to the United Nations, sings, "I'll Be Your Son Forever", https://www.youtube.com/watch?v=bX6_NKw0MCM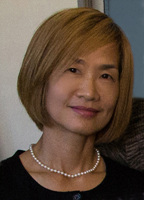 시몬 천
노스웨스턴대 국제정치학 교수
글로벌웹진 NEWSROH 칼럼 '열린 기자'
http://newsroh.com/bbs/board.php?bo_table=reporter