Korea update 53. One Korea and the United States: A New Beginning?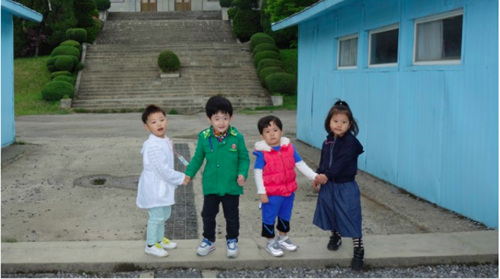 이 아이들처럼 자유롭게 오가는 날이 오기를..<합성사진=시몬천 박사제공>
1. June 12, Singapore: The U.S.- North Korea summit. 6월 12일 북미정상회담
2. June 11-12, Korea Peace Network, Advocacy Day. Citizen Diplomats! 6월 11-12일 코리아 피스 네트 워크 워싱턴 한반도 평화 액션.
Event Address: United Methodist Building - 100 Maryland Ave NE, Washington, DC 20002. Interested? Please contact us at KoreaPeaceNetwork@gmail.com
3. May 23-27, Seoul: International Women's Seoul Peace Symposium and DMZ Walk
Sponsored by Nobel Women's Peace Initiative and Women Cross DMZ
노벨 여성 평화 이니셔티브와 워먼 크로스 디엠지 주최.
국제여성 서울 평화 심포지엄과 디엠지 평화 걷기
#WomenPeaceKorea: A New Era
No New Korean War
Women support inter-Korean Peace process
Women for maximum engagement
Nuclear-free Korea – Nuclear-free world
Women's voices/inclusion for lasting peace.
Nobel Women's Initiative
https://nobelwomensinitiative.org/about/
Register for Peace Walk, May 26. 5/15 deadline (for Korean participants)
https://docs.google.com/forms/d/e/1FAIpQLScb2gJerflglXu1kj8OXM73AQomZvfjzFIU3UOi-P-7wwMBgA/viewform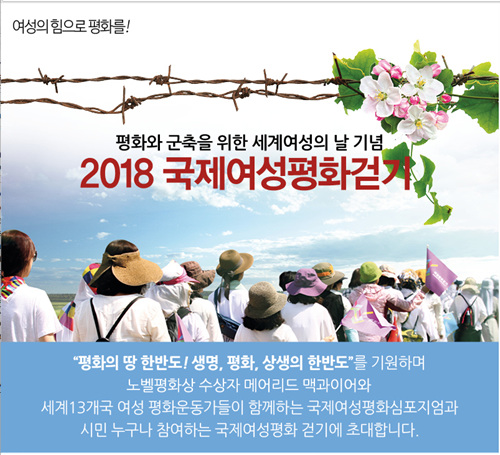 "What belongs together at long last can grow together".
Willy Brandt
1. "When you crossed the military border for the first time, Panmunjom became a symbol of peace, not a symbol of division." President Moon Jae-in to Chairman Kim Jong-Un.
2. "The late president Kim Dae-jung will be very happy". Former First Lady, Lee Hee-ho. 돌아가신 김대중 대통령께서도 몹시 기뻐하고 계실 것. 이휘호 여사.
3. I am 70 years old and never imagined that day like this would come. Korean divided family member. 내 나이 70이다. 이런 날이 올 것 상상도 못했다.
4. Is this a dream or a reality? It's hard to believe. 꿈인가 생시인가? 김여정. Kim Yo Jong. North Korean leader's sister
5. I brought my children out today to witness this historic moment together. I hope that they were able to live in a unified country where they can catch a train all the way to Europe. A Korean parent. 자식둘과 함께 역사적인 순간을 목격한다. 그들이 통일된 조국에서 유럽까지 기차 여행하는 날이 오길 빈다.
6. I pray for those who had been persecuted and even killed due to the Cold War, anti-communist propaganda, and divided Korea.
7. After more than 60 years, the Korean War to be declared officially over after historic summit. What a great day for the two Koreas and the world. Rev Jesse Jackson Sr. 한국과 전 세계에 위대한 날이었다. 제시 젝슨 목사
8. Korea's karma seems to be changing. Now it's the US' turn to look for means of long-term cooperation with North Korea that can start reconciling 65+ years of war! Start by reuniting families, bringing home service member remains and conducting exchanges. Daniel Jasper.
9. Amazing to watch history unfold! Moon Jae In and Kim Jong Un declared before the 80 million Korean people and the whole world that there will be no more war on the Korean Peninsula… Deann Borshay Liem 역사가 만들어지는 경이로운 순간이었다. 문재인 대통령, 김정은 최고 지도자, 8천만 한민족 앞에서 전쟁 없는 한반도를 약속했다.
10. I wish I were there. Prof. Dave Kang
11. A history was made! Two Koreas have done all the work. It's now your turn. Mr. Trump--you can be remembered as a hero for posterity if you want. 역사는 만들어 졌다. 남북한은 최선을 다했다. 트럼프 대통령—후손들에게 영웅으로 남을수 있는 선택 하라.
12. After so many years working on the sidelines of this conflict, this is a tremendous and emotional sight to witness - I have great hope for the Korean Peninsula. William J. Perry. 윌리엄 페리 전 미국방 장관, 한반도 큰 희망 품게 되었다. 남북정상회담 정말 감격 스러웠다.
13. The UNSG applauds the truly historic inter-Korean summit: Many around the world were moved by the powerful imagery of the two leaders coming together to advance harmony and peace on the Korean Peninsula.
14. There were two turning points on the road to the Korea Summit. One was Moon Jae-in's blunt warning against a unilateral US attack on N. Korea. The second was Kim Jong-un's decision to halt testing.
15. I remember on the South Korean side, what made a strong initial impression in June 2000 was not just the warm smiles and enthusiastic handshakes. It was also the fact that NK leader Kim Jong-il unexpectedly showed good manners - or, as one of the conservative grandpa's I interviewed at the time exclaimed, "He actually has common sense (상식)!" - evidenced by KJI doing things like dropping his pace to accommodate the slower gait of SK President Kim Dae-jung, who was several yrs older and walked with a limp. While there is always a self-conscious element of political theater to these events, that memory came as a reminder not to underestimate how important these in-person encounters can be for the process of reconciliation, crucial precisely because such moments end up making unpredictable and potentially disarming impressions. Fleeting in time but long-lasting in memory. Professor Nan Kim 난김 교수, 남북한 직접 교류 통한 새로운 평화를 위한 기억 중요성 강조.
16. People's Solidarity for Participatory Democracy 참여연대, 판문점 평화 선언으로 남북한 모든 분야 교류 기대.
We Welcome the Panmunjeom Declaration. The two leaders also agreed to organize the reunion of separated families on the National Liberation Day of August 15 this year, implement the projects agreed in the October 4 2007 Declaration, including the connection the railways and roads along Donghaeseon and Gyeongeuiseon. As President Moon will visit Pyongyang this fall to expedite further negotiations across diverse areas of exchange and cooperation, we believe that exchange and cooperation between the two Koreas across various areas and at different levels should dramatically increase in the future.
http://www.peoplepower21.org/index.php?mid=English&listStyle=list&document_srl=1562086
17. Korean Public Service and Transport Workers' Union 공공운수노동조합, 판문점 평화 선언 지지, 남북한 노동자 연대 평화 운동, 노동자가 주체가 되는 평화 운동 개시.
The 'peace and prosperity" referred to in the Panmunjom Declaration must be shared equally by all. To this end we plan to deepen exchange and solidarity with the workers we will come into contact with on the Peninsula and Eurasian Continent through the process of integration. We are deeply aware of that the tasks we as workers must now undertake in order to bring about peace and reunification are now more varied and more urgent than before. We thus make clear our intention to increase our capacity in the area of anti-war, peace and unification work, in order to be able to concretise a workers' vision for a peace regime and a unified nation, to fight for peace and prepare for the difficulties created by economic integration.
http://www.zoominkorea.org/korean-public-service-and-transport-workers-union-hails-panmunjom-declaration/
18. Women Cross DMZ 3년전 10,000 남북한, 국제 여성 평화 걷기로 역사를 이룬 워먼 크로스 디엠지, 평화 협정 촉구.
Three years ago, we joined 10,000 Korean women, North and South, as we walked on the streets of Pyongyang, Kaesong and Paju calling for an end to the Korean War with a Peace Treaty, for the reuniting of families, and for women's leadership in the peace process. Today, the two Korean leaders have brought us closer to this vision and set forth an unprecedented peace process. We applaud the two Koreas' pursuit of dialogue. One year ago, we wrote to President Trump reminding him that, "Peace is the most powerful deterrent of all" and urging him to do what no other U.S. president has done: bring a formal closure to the longest-standing U.S. conflict. One year later, President Trump said, "We hope to see the day when the whole Korean Peninsula can live together in safety, prosperity and peace. This is the destiny of the Korean people." We look forward to President Trump's historic meeting with Chairman Kim and their building on the momentum established by the Inter-Korean Summit by taking concrete action towards the signing of a Peace Treaty. The two leaders have the power to end decades of enmity and sow the seeds of friendship between the people of the United States and the Democratic People's Republic of Korea. https://www.womencrossdmz.org/wp-content/uploads/2018/04/WCDMZ-Statement-on-Summit-and-Panmunjeom-Declaration-1.pdf
19. World Council of Churches. 세계교회협회, 북미정상회담이 북미, 남북간 민간, 종교인들의 교류로 발전될 것 기도.
The NCCK hopes that the agreements are thoroughly enforced to ensure the end of the 70-year-old separation and conflict, and in their stead to bring long-lasting peace in the Korean peninsula. Furthermore, we hope that through the North Korea-US Summit next month, there will be permanent peace in the peninsula and we ask that all countries, civil societies and churches actively cooperate. x
https://www.oikoumene.org/en/resources/documents/other-ecumenical-bodies/ncck-statment-on-korean-peninsula-27-april-2018/
20. Christine Ahn. The true heroes of this story: the South Korean peace activists who focused on a new era of peace with goals for family reunification, denuclearization and ending all hostile acts. 이시대의 진정한 영웅은 이산가족 상봉및 남북한 적대감 해소 위해 노력한 한국의 평화 운동가들이다 워먼크로스 디엠지, 크리스틴 안.
21. Tim Shorrock on North Korea Nuclear Deal: Will the U.S. Drop Sanctions $ Economic Embargo? Democracy Now. 더 네이션 팀 쇼락 기자. 미국, 북한에 대한 경제 제재 중단 촉구, 남북한 자주적인 평화 프로세스의 의미, 미국, 미국 언론들 관심 부족.
Nobody takes Korea, South Korea, seriously, nobody takes North Korea seriously, that South Korea and North Korea mapped out a procedure, a plan, to denuclearize and to decompress and to move toward a peace regime and decrease the tensions. And South Korea took steps today, for example, that they said they were going to end all hostile acts.
Try to understand what's actually happening in North Korea and South Korea. And the fact is, the United States cannot control Korea anymore. The United States has been in Korea militarily since 1945. And it's time to end this colonial-like relationship the U.S. has with South Korea.
https://www.democracynow.org/2018/4/30/tim_shorrock_on_north_korea_nuclear
22. John Delury. Panmunjom Spring. 38 North. 남북한 정상회담이 북미정상회담 기반이다 존 델러리 연세대 교수.
Nothing lost in translation…Next comes Trump and Kim's moment to move this diplomacy forward, starting with the bold and risky move of a summit. Each leader will decide if he can have confidence in moving forward with the other. If the answer is yes, then they—and their negotiating teams—will have to hammer out the plan for the right pacing, verification and settlement that can achieve durable peace and complete denuclearization. For a variety of political and technical reasons, the negotiation and implementation will be incredibly difficult. It is, however, the right way forward. And the Moon-Kim summit helped it along to the next step.
https://www.38north.org/2018/05/jdelury050118/
23. Kim Jong-hoon. On Denuclearization the Korean Peninsula and Building a Peace System: A message to Congress. Zoom in Korea 한국의 진보 정치인, 한반도 평화 위한 미국 의회의 적극적인 노력 촉구.
Given the historic significance of the current moment in U.S.-Korea relations, the silence of Washington lawmakers, on the other hand, is puzzling. Tens of thousands of U.S. troops shed blood in the Korean War. For the past sixty-five years, the United States deployed to Korea countless young men and women, who braved repeated war threats in a tense military standoff against North Korea. Last year, North Korea claimed to have developed a weapon of mass destruction that can threaten the continental United States. And now, the leaders of North and South Korea and the United States are discussing a solution to finally end such a treacherously dangerous situation. Should this not be applauded? As a lawmaker in South Korea, I appeal to my counterparts in Washington to play a more active role at this critical and historic moment in U.S.-Korea relations. http://www.zoominkorea.org/on-denuclearizing-the-korean-peninsula-and-building-a-peace-system-a-message-to-congress/
24. Chung-in Moon. A Real Path to Peace on the Korean Peninsula. Foreign Affairs.
The Progress and Promises of the Moon-Kim Summit. 남북정상회담은 평화를 위한 구체적인 로드맵, 남북한 교류, 정상화를 위한 구체적인 스텝 포함 의미 있다 문정인 교수.
Although much commentary has focused on the remaining difficulties, which are considerable, it has missed just how much was accomplished last week. Moon and Kim did not just make high-level commitments; they also laid out specific timetables for implementing them and took concrete steps that will have immediate effects in facilitating cooperation and preventing conflict. That offers cause for hope that for all the remaining challenges, a comprehensive peace deal including real denuclearization by North Korea is achievable in a couple of years, if not in the months ahead.
https://www.foreignaffairs.com/articles/north-korea/2018-04-30/real-path-peace-korean-peninsula
25. Jeffrey D. Sachs. Denuclearization Means the US, Too. 한반도 비핵화는 미국의 비핵화도 포함되어야 한다는 미국 진보 언론인 분석.
The US demands that North Korea adhere to the provisions of the Nuclear Non-Proliferation Treaty (NPT), and on that basis has encouraged the United Nations Security Council to impose sanctions on North Korea in pursuit of denuclearization. Similarly, Israel calls for sanctions or even war against Iran to stop the country from developing a nuclear weapon in violation of the NPT. Yet the US brazenly violates the NPT, and Israel does worse: it has refused to sign the treaty and has claimed the right to a massive nuclear arsenal, acquired through subterfuge, that it refuses to acknowledge to this day. .. By all means, let us urge a rapid and successful denuclearization of North Korea; but let us also, with equal urgency, address the nuclear arsenal of the US and others. The world is not living under a Pax Americana. It is living in dread, with millions pushed into the vortex of war by an unrestrained and unhinged US military machine, and with billions living in the shadow of nuclear annihilation.
https://www.project-syndicate.org/commentary/denuclearization-also-for-united-states-by-jeffrey-d-sachs-2018-05
26. Simone Chun. Korean Peninsula in Historic Peace Talks – Thanks to Activists, Not Trump. The RealNews 시몬천 한반도 평화 회담, 한국 민주주의 회복시킨 촛불 운동 시민의 공로다. 현재 한반도 평화 프로세스는 국민들로 부터 강력한 지지를 받고 있다는 점에서 과거의 정상회담과 다르다 시민 주체 평화 운동, 국제 시민 연대 필요성 강조.
The previous two summits were more elite level. But this time I am really arguing that this, this moment is fundamentally different from previous ones in that this time we have enormous energy and a passion and mobilization and solidarity from people, not only in Korea, from elsewhere, to demand that we're going to make a permanent peace regime and peace system on the Korean peninsula.
https://therealnews.com/stories/korean-peninsula-in-historic-peace-talks-thanks-to-activists-not-trump-2
27. JNC TV. Candlelight News 31 (in Korean). Simone Chun. Conservative analysts in the United States also give a high mark on the inter-Korean summit result. 미국내 보수 언론, 전문가들도 남북정상회담 높이 평가, 시몬천 인터뷰.
Key points:
Strongly supported by people in Korea (more than 80% support).
Complete denuclearization of the Korean Peninsula was stated for the first time.
Articulating a strong will for a peace treaty.
Rightwing politicians who thrived on a divided Korea are obstacles for peace.
국민들로 부터 강력한 지지를 받은 회담
한반도 평화 프로세스의 적폐는 한국내 수구 세력.
http://homepy.korean.net/~jnctv/www/news/politic/read.htm?bn=politic&fmlid=745&pkid=27&board_no=745
http://www.newsroh.com/bbs/board.php?bo_table=m0604&wr_id=7546