지금으로부터 17년전 남과 북은 역사적인 평화 선언을 하였습니다. 장관회담도 하고, 군사회담도 하고, 적십자사 회담도 하고, 남북 경협과 이산가족 상봉도 하였습니다.
이러한 희망의 순간들은 미국에 있는 우리들의 위대하고 성실하며 진지한 친구들의 도움이 있었습니다. 그래서 우리는 미국에서 다시 시작합니다.
남북정상의 6.15 공동선언 17주년을 맞아 우리는 한국인들과 미주한인들, 미국과 유럽의 시민운동가들, NGO들과 함께 하고자 합니다. 베를린장벽(障壁)이 무너진 것처럼 독일과 유럽의 통합, 미국의 연대라는 영광스러운 순간들을 돌이키며 기적(奇籍)과도 같은 역사적 순간을 함께 하지 않으시겠습니까?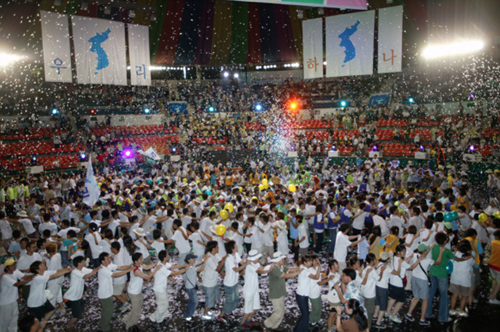 Life can survive only because of the generosity of other lives. --Pope Francis
Dear Friend--heads-up on this week's big LAUNCH for peace in the Korean peninsula, Asia and the world!
17 years ago, diplomatic meetings between the North and South led to a historic peace declaration, which was culminated in the South-North ministerial talks, military working-level talks, Red Cross talks, the working-level contacts for inter-Korean economic cooperation, and reunion of separated families and relatives. These hopeful moments were created in part due to our great, diligent and serious friends in the United States. So, this time, we start here in the United States.
On this week that marks the 17th Anniversary of the June 15th North-South Joint Declaration, we wish to kindly ask for your generosity and solidarity with the LAUNCH led by Korean, Korean-American, American and European peace activists, and NGOs. Recall those glorious and inspirational moments of breaking the Berlin Wall and German and European unity with the American solidarity? How many of us, while celebrating, had wished to be part of efforts that led to such a miraculous and history-making moment?
Well, for those who had missed such awesome opportunities, we're given another chance: The Korean Peace Launch!
THE 2017 KOREAN PEACE LAUNCH
1. June 13. Off-Ramps to War: Paths to Building Peace with North Korea
Keynote speakers
William J. Perry, former US Secretary of Defense, Professor Emeritus, Stanford University
Bruce Cumings, Gustavus F. and Ann M. Swift Distinguished Service Professor in History, University of Chicago https://pisa.elliott.gwu.edu/ramps-war-paths-building-peace-north-korea
Facebook event page
https://www.facebook.com/events/803479396476835/
2. KOREAN PEACE LAUNCH for Repatriating the remains of U.S. Servicemen--from the Korea Peace Network (KPN)
We urge the US to use diplomatic means of engagement to resolve the unresolved conflict between the U.S. and North Korea.
The Korean War has never been resolved – ending in an armistice and not a peace treaty.
Any military action against North Korea could elicit retaliatory strikes against South Korea. Thus, any military action could jeopardize millions of lives.
After the Korean War, over 8,000 U.S. servicemen were missing in North Korea. Today, the remains of 5,000 U.S. servicemen are still in North Korea.
North Korea has offered to return collected US Korean War veterans' remains disinterred and protected during decades of agriculture and construction projects around the DPRK.
More than one hundred sets of these remains are awaiting return.
North Korea made this offer in September 2016 during a meeting between representatives of the Richardson Center for Global Engagement, the Coalition
Families of Korean & Cold War POW/MIAs, and the DPRK's foreign ministry. The condition to this return is that the US administration reinstates the humanitarian status of the remains mission in North Korea. We ask that this status be reinstated.
This determination will not only return US soldiers' remains to their families and interment in US soil, but may open a window of engagement that will lead to the resumption of joint US/DPRK remains recovery operations and the search for 5,000 US soldiers still missing in North Korea.
Any operations pertaining to the repatriation of US servicemen in North Korea are exempt from current sanctions measures under the North Korea Sanctions and Policy Enhancement Act of 2016.
The U.S. conducted joint investigation and remains recovery operations in North Korea from 1996 through 2005. 229 remains were recovered. 110 have been identified (March 28, 2016).
Equipment from the 2012 effort was left in SK for future operations saving costs, etc, of amassing and transport.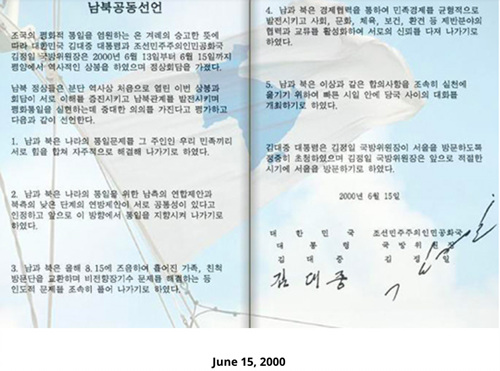 3. Zoom in Korea. June 15th south-North Joint Declaration
In accordance with the noble will of the entire people who yearn for the peaceful reunification of the nation, President Kim Dae-jung of the Republic of Korea and National Defense Commission Chairman Kim Jong-il of the Democratic People's Republic of Korea held a historic meeting and summit talks in Pyongyang from June 13 to 15, 2000.
http://www.zoominkorea.org/june-15th-south-north-joint-declaration/
4. William J. Perry (former US Secretary of Defense). How to Make a Deal With North Korea
In 1994, as secretary of defense in the Clinton administration, I oversaw detailed planning for a military strike against the nuclear reactor at Yongbyon to halt North Korea's production of plutonium used in bomb-building. We were serious, and the North Koreans knew we were—an exercise of coercive diplomacy that yielded an agreement, imperfectly implemented, that did effectively halt the regime's nuclear progress for a time.
In Clinton's second term, after I had left the Pentagon, I led a diplomatic effort aimed at a long-term resolution of the North Korean nuclear dilemma. With allies in South Korea and Japan, we discussed a bargain that offered a highly desirable outcome: normalization of relations with North Korea in exchange for it giving up its quest for nuclear weapons. We were tantalizingly close to an agreement, including a presidential visit to Pyongyang, when the clock ran out on Clinton's term.
President George W. Bush abandoned Clinton's diplomatic plan for his own more confrontational model, and in my judgment lost a priceless opportunity. Today, North Korea has 10 to 20 nuclear bombs, and it is obvious why diplomacy rather than war is the preferred path.
…
We might have to use military force against North Korea at some point, but now is not the time. We still have a real opportunity for successful diplomacy. The big question is: Do we have the sense to seize this chance? After all, it could be the last one we have.
http://www.politico.com/magazine/story/2017/04/north-korea-nuclear-deal-donald-trump-china-215034
5. Bruce Cumings. London Review of Books. A Murderous History of Korea
On 1 May, Donald Trump told Bloomberg News: 'If it would be appropriate for me to meet with [Kim Jong-un], I would absolutely; I would be honoured to do it.' There's no telling whether this was serious, or just another Trump attempt to grab headlines. But whatever else he might be, he is unquestionably a maverick, the first president since 1945 not beholden to the Beltway. Maybe he can sit down with Mr Kim and save the planet.
https://www.lrb.co.uk/v39/n10/bruce-cumings/a-murderous-history-of-korea
6. Washington Post. What does Kim Jong Un want with all these missile tests? Talks, perhaps?
President Trump, who prides himself on negotiating skills honed during decades in business, said last month that he would be "honored" to meet Kim, even labeling him a "smart cookie." A top North Korean diplomat, after talks with former U.S. officials in Norway last month, said the Kim regime would be willing to talk "if the conditions are there."
https://www.washingtonpost.com/world/asia_pacific/what-does-kim-jong-un-want-with-all-these-missile-tests-talks-perhaps/2017/06/08/85125afe-49cd-11e7-b69d-c158df3149e9_story.html?utm_term=.22be885c039d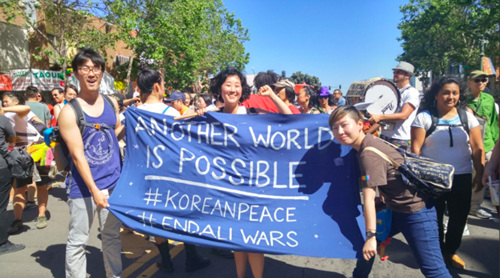 7. Zoom in Korea. Rocky Start for Inter-Korean Exchange in the Moon Jae-in Era
All eyes will be on Moon when he travels to Washington at the end of this month to meet with Trump. The summit will be a key indicator of whether he will stand up to Trump or assume a compliant stance that hinders efforts for national reconciliation. It will also be a measure of his will to carry out the June 15 Joint Declaration, which states the South and the North will "resolve the question of reunification independently" and defines "the Korean people"—not the Korean state or a foreign power—as "the masters of the country."
http://www.zoominkorea.org/rocky-start-for-inter-korean-exchange-in-the-moon-jae-in-era/
8. Zoom in Korea. Simone Chun. The Korean Peninsula: Ground Zero for Armageddon?
Officials on both sides of the Pacific have also begun renewed calls for dialogue amid heightening tensions. The new South Korean President Moon Jae-in was elected with a strong mandate for engagement with North Korea, and has promised a renewed emphasis on diplomacy and rapprochement. Even Pentagon chief James Mattis, noting the grave risks of open conflict, has reiterated the US commitment to working with allies in order to arrive at a diplomatic resolution to the nuclear stalemate. As former Secretary of Defense William J. Perry recently noted, opportunities for peace and security in Northeast Asia still exist in the midst of conflict, awaiting only the political will and foresight to actualize them: "We now have the opportunity for a new approach to diplomacy. Will we have the wisdom to seize it?"
http://www.zoominkorea.org/the-korean-peninsula-ground-zero-for-armageddon/
9. James Dobbins and Jeffrey Hornung. June 8, 2017, New York Times. Op-Ed.
"End the Korean War, Finally"
Formally ending the Korean War, including American recognition of the government in Pyongyang and an opening of diplomatic relations, is an essential component of such assurance…In 1974 the United States recognized the German Democratic Republic and opened an embassy in East Berlin, while continuing to regard the Federal Republic of Germany (West Germany) as the sole legitimate successor government of the historical German state and of a future reunified Germany, which actually occurred 16 years later. One can imagine using similarly creative ideas in a peace treaty to bridge some of the differences between the two Koreas.
https://www.nytimes.com/2017/06/08/opinion/end-the-korean-war-finally.html?smid=tw-share&_r=0
Peace--neither war nor destruction--shall be the future of the Korean peninsula, Asia and the world only because of your generosity and solidarity!
Simone Chun
simonechun@gmail.com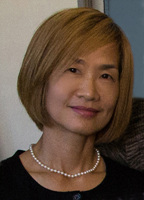 시몬 천
노스웨스턴대 국제정치학 강사