Now, we're watching the inexorable march toward crash and burn of a segment of the population. What makes it interesting is that the segment is comprised of many different elements of the society. There is no clear common denominator. It is a mixed bag of people with different backgrounds. Economic hardship alone doesn't explain it. Political frustration alone doesn't explain it. Social attitude alone doesn't explain it. Religious outlook alone doesn't explain it. Educational level alone doesn't explain it. Human nature alone doesn't explain it. History alone doesn't explain it.
This story has three components; Donald, his supporters, and the Republican Party. This story produced understandable and heartwarming heroes; Michelle Obama, Barack Obama, and the American conscience.
This story reconfirmed the age-old wisdom and insight into the humanity. The wisdom is that heart and mind of an individual are so important and become the determining factor, eventually.
This is the story of service, responsibility, discipline, ambition, greed, and immaturity.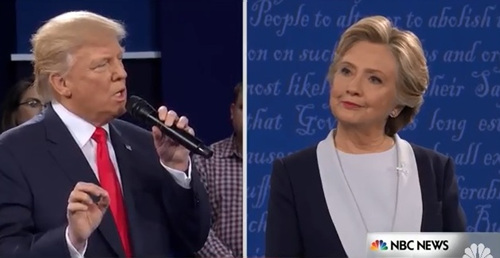 <NBC-TV 캡처>
Donald has become the showcase of an ugly mind-set, inevitably, crashing down.
Hillary is finally being recognized by more and more people that she has started out to help people; to serve. Bill Clinton had started out with ambition. At least, ambition first, and, now, some good people wouldn't mind if he disappears.
Michelle and Barack Obama has had good hearts and minds;as time go by, they are more appreciated and respected.
Donald supporters are the interesting bunch, but they seem to bring their psyche more than policy positions and visions. How they will handle themselves after the election is going to be interesting to observe.
Hillary has better chance than President Obama to be an effective president. President Hillary has a wider network of people she can draw from; she is better prepared than President Obama; she can be much more forceful, if necessary.
In the meantime, the crash and burn goes right to the heart of humanity.