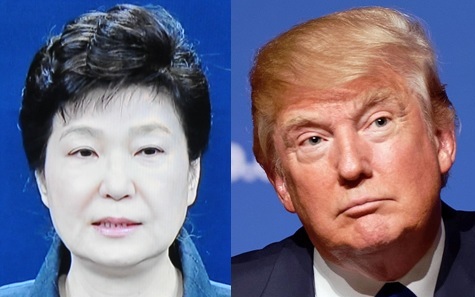 박근혜(Park Geun-hye) and Donald are providing the disappointing, yet, fascinating window into our world at the moment. The events in both countries are pushing and forcing us to ask and examine: who, what, why, and how. There are so many different and intermingling narratives; it will require great amount of scholarships from many different experts in many different fields of studies to do justice to the topic.
Above all, we have to bring all these different narratives/points of views together to come up with the coherent and documented understanding to be used as the reliable reference. History, culture, politics, economy, demographics, the speed and scope of change, attitudes and customs, ideology, and vision, all of them, are coming into play to make it complicated and mesmerizing. How we accomplish this task; what kind of insight, breath, and depth, we bring to the it; who can form the majority consensus which is well informed and thought through with optimistic vision; These will determine who is going to be the leading force in the world. The leading force in the world may no longer be money or violence in the future. Fascinating.
Why and how, these two characters were possible, are now well documented if we look closely enough. There may be different takes but the main narrative is more or less formed. The details of why and how will take many volumes of books with serious scholarships. After all, the books on Hitler are over 30,000, last time I checked, and they are still coming.
Current issues and events are making very clear that we have to be well informed with critical eyes, must be engaged with our worlds, and show activism, initiative, and leadership. These are tall orders in this competitive and stressful times. Most of us just don't have enough time to follow the events adequately. But some of us have to do it for ourselves and the general public.
It may not be easy to understand past and present. But, all of us have certain ideas. It is just a matter of how thorough it is. In the U.S. side, there are enough well established materials/documented details to understand the past and present. The only stumbling block, if there are any, is each individual's objectivity and clarity. In the Korean side, the question is the quality and depth of materials and interpretations. It is interesting to observe how each side handle the current situation. The whole world is watching.
Familiarity with past and present is wonderful, but those understandings should be the definitive bridges to the future. But the future is more than the sum of past and present. The future requires an extra dimension. The dimension of vision which is conceptualized and visualized with positive, creative force and cool courage. It is possible because we're the ones who are going to create it.