보스턴미술관에서 최정화와 한석현 등 아시아 작가들의 특별전이 사상 최대 규모로 열려 관심을 모은다.
3일부터 7월17일까지 석달 넘게 계속되는 '메가시티 아시아(MEGACITIES ASIA)'가 화제의 전시회다.
이 전시는 서울과 베이징 상하이 델리 뭄바이 등 아시아의 메가시티를 거점(據點)으로 작업하는 작가 11명을 초청해 미술관 개관이래 가장 큰 규모의 ​현대미술전으로 기획됐다.
최정화 한석현 작가 외에 중국의 아이 웨이웨이와 인도의 수보드 굽타 등 세계적인 설치작가들이 초청됐다.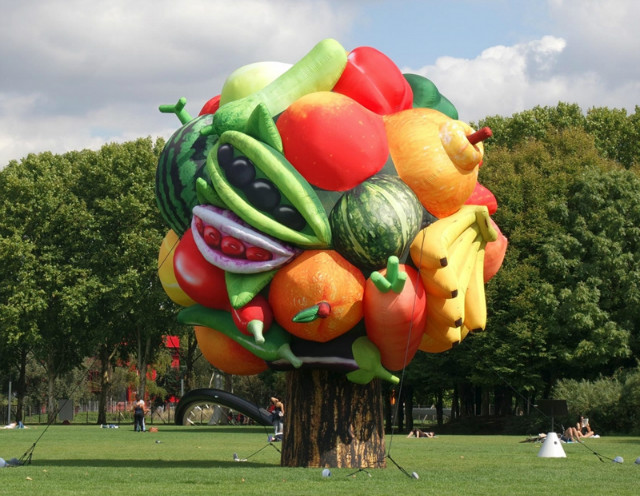 '한국형 팝아티스트'로 통하는 최정화 작가는 신작 '연금술(Alchemy)'을 선보인다. 보스턴미술관은 "최정화의 작품은 시장이나 원달러숍에서 구한 싸구려 플라스틱 제품들을 오브제로 도시적 취향의 아름다움과 장엄함을 구축(構築)하고 있다"고 소개했다.
그는 2008년 열린 서울디자인올림픽에서 무려 170만여개의 세제통과 생수병 등 폐 플라스틱 생활재료를 모아 잠실 올림픽 주경기장 외벽 전체를 둘러 화제를 모으기도 했다.
한석현 작가의 초대형 설치작 '슈퍼 내추럴(Super-Natural)'도 특별한 관심을 끌 것으로 보인다.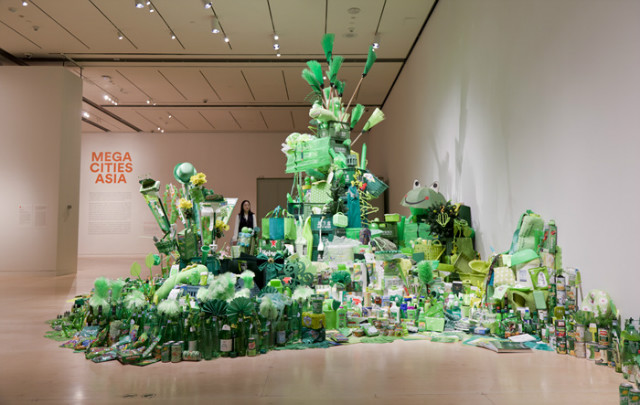 사진 한석현 작가 제공
슈퍼 내추럴은 초록빛으로 포장된 갖가지 소비재들을 쌓아 만든 인공 풍경으로, 녹색이 친환경이라는 등식을 받아들게 된 오늘날의 소비자 환경에 대해 생각하게 하는 작업이다. 인공적으로 모방한 초록색 대량 생산물속에서 자연의 안식(安息)을 찾는 도시인의 심리적 단면을 드러내고 있다.
특히 한 작가는 이번 작업을 위해 보스턴 시민들로부터 초록 플라스틱 오브제들을 기부받아 서울에서 가져온 막걸리통 등과 함께 어울려 두 도시가 참여하는 작업으로 완성되었다.
뉴욕=민지영기자 newsroh@gmail.com
<꼬리뉴스>
Eleven artists sculpt urban reality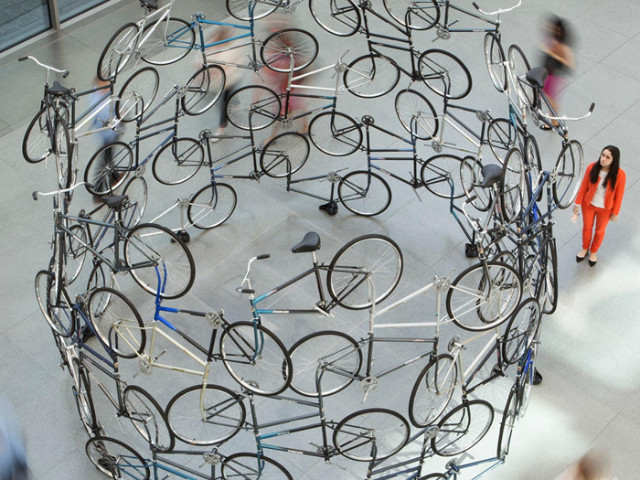 The accelerated rise of megacities—those with populations of more than ten million—over the last 50 years has profoundly affected the lives of their inhabitants. Asia is home to more megacities than any other continent: the works by the 11 artists in this exhibition respond to the political, environmental, and social conditions of their home cities of Beijing, Shanghai, Delhi, Mumbai, and Seoul, conveying their textures, proportions, and striking material and visual juxtapositions.
Accumulations of objects that each artist encounters in daily life—dishes, doors, plastic bags—become immersive sculptures.
Like a sprawling megacity, this exhibition extends to all corners of the Museum. You'll find works located throughout the galleries, and even outside the Museum's Huntington Entrance, and at Faneuil Hall.
From the endless stream of migrants in densely packed Mumbai, to the bicycles that until recently filled the streets of Beijing, works by Hema Upadhyay and Ai Weiwei evoke the constant motion that characterizes emerging megacities.
Urban consumption is at the heart of Take off your shoes and wash your hands (2008) by Delhi's Subodh Gupta: a wall of stainless-steel utensils found in urban Indian kitchens.
Choi Jeong Hwa finds beauty and grandeur in urban appetites, with Alchemy (2016), an installation comprised of cheap plastic objects from markets and 99-cent stores, while Delhi's Asim Waqif and South Korea's artist collective flyingCity are inspired by the rapid building that surrounds them—from the ubiquitous bamboo scaffolding of construction projects, to the metal parts churned out by machinists in central Seoul trying to compete in a globalizing market.
Aaditi Joshi amasses plastic bags on which Mumbai retail relies, finding beauty in them despite the enviromental threat discarded bags pose, and Beijing's Yin Xiuzhen alters rubble left behind by waves of demolition around her city. Using cast aside historic objects as new construction dominates their cities, Song Dong creates interactive architectural sculptures that recall how Beijing families once ingeniously extended their cramped living spaces into rooftop pigeon coops, while Shanghai-based Hu Xiangcheng's constructions find life in windows and doors salvaged from dismantled Ming- and Qing-era houses. Seoul's Han Seok Hyun creates an undulating landscape of green products in Super-Natural (2011/2016)—using bottles of rice wine and packages of dishwashing detergent—to ask how his city's growing environmental consciousness can be reconciled with its ever advancing urban development.
An accompanying exhibition map and guide lists locations of all the artworks. The MFA Guide, available to rent, offers an in-depth experience, including an introduction from the curators, engaging artist statement videos and the artists' perspectives of each work on view. Visitors are invited to stream the artist statement videos on their mobile devices through MFA Mobile or on mfa.org. The Museum also encourages visitors to share their experiences of "Megacities Asia" on Facebook, Twitter and Instagram using #mfaMEGA.
http://www.mfa.org/exhibitions/megacities-asia